Click any title to drop down it's contents.
WHAT IS A KO WELDING TABLE?
Simply put, they are heavy duty fabricating tables - precision machined flat with holes in a perfect grid.
This hole grid enables the use of fixture tooling and clamps in a modular fashion.

Due to the flatness/hole precision - they minimise fabricators' mistakes, in turn maximising their productivity and efficiency with ease of setting up stops, angles, clamps and other accessories seamlessly for all types of welding tasks.
WHAT ARE THE HOLES FOR?

The holes are a valuable asset in holding and guiding your work material in place in the middle or anywhere else on your table.

Due to the hole tolerance of KO | WT tables (+0.05mm), proper alignment of fixtures is easy, with micrometer precision.
The holes also allow your table to be transformed in a multitude of ways, including the use of extenders, right angle fixtures, flat stops, round V groove supports and more.
KO | WT's STORY
Two years prior to our KO Welding Tables site launch, we began our testing phase for the now perfected KO Welding table. We figured the best way to test the table's precision/durability was to use it over time in a real life scenario so we purchased our very own. The sample table and fixtures were then used for all sorts of fabrication jobs over a one year period.

After extensive use, we were impressed by the "might" of the tables - aswell as the endless amount of clamping and fixture opportunities. We even tried welding a 1.6mm RHS table frame with zero tacks (not recommended). To our surprise, the frame came out perfectly flat and square!

Throughout our years of welding, we've never used such a precise 3D modular welding table; just your usual DIY steel table top and flat pack DIY tables, which are still fine. But just don't compare to these CNC machined, ready-made, thick-block welding tables.

With tolerances of: Flatness: ±0.01mm (1m2) | Hole Distance: ±0.05mm | Hole Diameter: +0.05mm
We were more confident in the precision of our work, whilst pumping out jobs faster than ever.

Now that we knew we had a solid product, R&D started on a set product line. We reached out to several Aussie fabrication shops and contractors, in an effort to find out which table sizes and fixture configurations would best suit them. After a bunch of phone calls and conversations we soon realised - everyone required different table sizes, configurations and fixtures...
A couple of set products simply wouldn't do!

Then, the obvious light bulb moment... Rather selling a small product line, let's just provide customisable, made-to-order welding tables and accessories to suit everyone's needs. Not only that, but to have our affordable prices on display for instant quotes, while simultaneously featuring a seamless "online shopping" style enquiry system.

After six months of meticulous designing, developing and fine tuning by the KO team, our easy-to-use website, koweldingtables.com.au was finally born!
OUR TOLERANCES
Flatness: ±0.1mm (1m²)
Hole Distance: ±0.05mm
Hole Diameter: +0.05mm

Tolerances apply to all KO | WT tables and fixtures at the time of receiving goods. After many years of hard use, they may vary.
K16 OR K28?

K16 BENEFITS:
Lighter - tables/clamps/fixtures are about half the weight of our K28 variant.
Hole distance - the standard hole grid is half the distance of our K28 variant.
Price - K16 table tops are more cost effective (fixtures are less cost effective, due to being less common/more intricate).


K28 BENEFITS:
Durability - will even more so, stand through the test of time.
Clamping power - increased clamping power by 50%.
Heat Dispersion - due to the thicker plate material the K28 table acts as a heat sink.
Load capacity - 1 tonne / 1㎡ (double of K16).
Fixture Tooling - larger range, more robust and more cost effective in price.
Note: 50mm grid pattern is semi-achievable with our diagonal hole grid option.

CONCLUSION
Our K16 welding table variant is suited for those completing light to medium duty fabrication jobs such as: 1.6mm - 2mm wall thickness tube jobs, and "one person shows" due to the lightness in nature of work. K16 tables are also slightly cheaper, but the fixtures are slightly more expensive (on average).

Our K28 is for those completing medium to heavy duty fabrication applications; from 2mm wall thickness tube to structural bridge cranes and everywhere in between. The 28's can take a fair beating and will stay true flat for even further decades. Also due to the plate thickness increase, the 28's base acts as a heat sink, allowing your work pieces to cool faster. You can of course complete light duty jobs with the 28's, but if you're solely completing light work go for the K16.


Questions?
Call us (03) 7020 0234


SURFACE TREATMENT?
At KO | WT we offer three Surface Treatment options.

If you're completing any MIG work or would like a harder and even longer lasting table surface, we strongly suggest going with the plasma nitriding option.

1) STANDARD - No surface treatment, raw material (silver in colour).
BENEFITS: N/A.
HARDNESS: Cast Iron ~230HV | Steel ~240HV.

2) BURNISHING - Oxidation treatment (black in colour).
BENEFITS: Rust resistance.
HARDNESS: Cast Iron ~230HV | Steel ~240HV.

3) PLASMA NITRIDING - Case hardening ion nitriding treatment (black in colour).
BENEFITS: Huge hardness increase, spatter resistant, heat dispersion, rust resistant.
HARDNESS: Cast Iron ~450HV | Steel ~550HV

HOW'S IT DONE?

BURNISHING PROCCESS:
1. Pre-treatment of the material with Degreasing and Pickling.
2. After a water wash,Immersion of the pieces in oxidising solutions at a temperature of 140° C.
3. Repeated wash cycles in hot running water.
4. Final treatment with heat protection oil.
Giving an attractive appearance and to increase their rust resistance, while maintaining their dimensional stability.

PLASMA NITRIDING PROCCESS:
1. The table is put into a vacuum chamber.
2. A bias voltage charge is applied to the table causing ions to collide and is then held at high temperature to allow further diffusion of the carbon into the substrate.
3. The components are slightly cooled to about 925-850°C.
4. Quenched in a bath of heat protection oil, before placing in storage at room temperature for 2 days
Case depths of up to 2mm are achieved with a hardness of about 450 - 600HV.

Note: These units are to be used as a reference guide only, products may slightly differ.
CAST OR STEEL MATERIAL?
At KO | WT we offer two table material options: Cast Iron or Steel.

Although there's not a massive difference in the performance of these materials, our rule of thumb is:

- If you do more TIG work go for Steel (smoother, cleaner surface).
- If you're completing more MIG work go for Cast (naturally spatter resistant).

Both materials are fine for all welding processes. If your work is 50% MIG and 50% TIG we still would recommend Steel, coupled with nitriding treatment (case hardened - spatter resistant treatment) as the Steel has a cleaner and smoother finish (see picture).

1) CAST IRON - T300
BENEFITS: Naturally spatter resistant, slightly greater heat dispersion.
HARDNESS: Differs per treatments:
Standard and Burnishing ~240HV. Nitriding ~450HV.
DENSITY: 7.25 g/cm³.
Tensile Strength: 345 MPa.

2) STEEL - S355
BENEFITS: Hardness increase, smoother surface. cleaner etching lines.
Note: Spatter resistance is achievable with nitriding treatment.
HARDNESS: Differs per treatments:
Standard and Burnishing ~250HV. Nitriding ~550HV.
DENSITY: 7.80 g/cm³.
TENSILE STRENGTH: 355 MPa.

Note: These units are to be used as a reference guide only, products may slightly differ.
HOLE GRIDS?
Can I order a custom table size?
Yes. Any measurement (in 100mm increments) between the two below:
FOR K16 - from 1.0m x 0.5m to 2.5m x 1.5m.
FOR K28 - from 1.0m x 0.5m to 3.0m x 1.8m.
A custom size fee of $200+ may be applied.
What is the current lead time?
6-12 weeks after we receive your deposit depending on your order and/or customisations. We endeavour to stock the most common tables/accessories, but they sell super fast - so give us a call and ask whats in stock.
Do you ship Australia wide?
Yes, we road express freight (StarTrack and MainFreight) from our warehouse in Ballarat, VIC to every nook and cranny of OZ.
How much is my delivery?
VIC-WIDE: $249 ex GST flat rate (3 tonne max).
INTERSTATE: This is an extremely subjective question.
You will be quoted after you make your enquiry at cost price from the cheapest of our carriers we use.
It will depend on your location and order size.
For your convenience we have added these guides so you can have an idea on how much delivery will cost.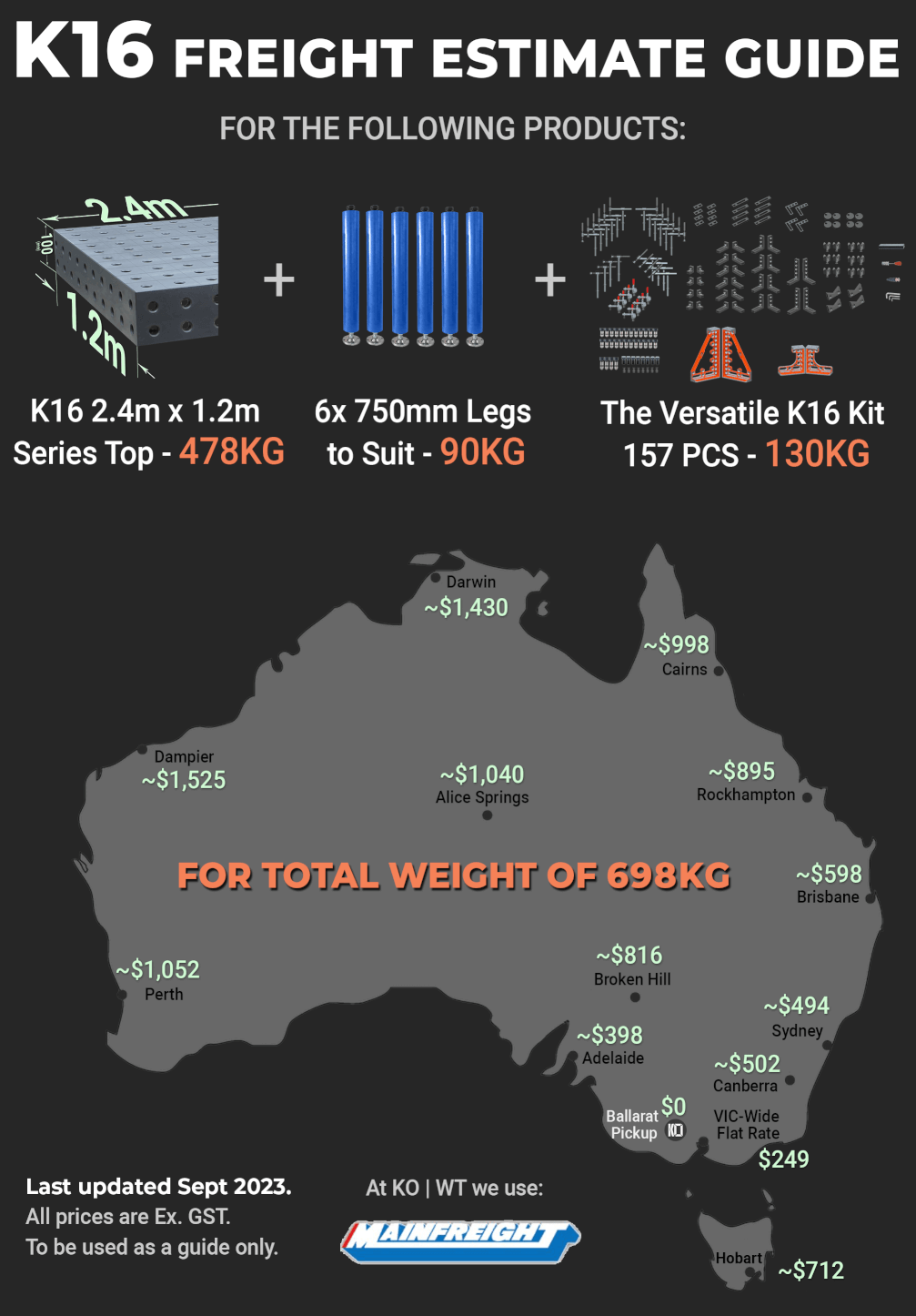 How much is my deposit?
Deposit is 60% to lock in your order. Once you receive and confirm goods the final 40% is due within 5 days.
Do you have sales contracts put in place?
Yes. Orders of $1,000+ will require a legally binding e-contract signed by both parties for peace of mind.
Are the tables made in OZ?
No, though they are made in Taiwan/China. We are aussie owned and operated, so all proceeds are funding our small family business. We looked into getting them Aussie-made but the cost was too high - more than triple cost for an inferior product due to not large enough nitriting baths, and CNC machinery available in our country.
Do you have a show room?
Yes. We have K16 and K28 tables and all accessories on show, in addition we have a testing bay in our warehouse where you can even weld on before you order - in BALLARAT, VIC.
Google "ko welding tables" for the address 🙂
Do you have any welding table guides?
Yes. We've created a range of guides to help share information around different welding tables options, fixtures, and how best to use them. We're regularly adding more.
Check out our welding table guides for more information.